SLEEP BETTER WHILE SUPPORTING YOUR MEMORY OVERNIGHT WITH MINDBOOST
™

NIGHT
Wake Up Ready to Conquer the Day With A Healthier,
More Productive Brain
I took a chance with "MindBoost Night " for its naturalness and I have had not one side effect. I can not thank you enough for the improvements I am experiencing. I am taking them for life.
I do feel you have given me a new lease on life. One to be lived to its fullest."

Amelia V.
YES! I Want To Help Support My Memory, My Focus, and My Health
MindBoost™ Night - Get A Great, Full Night's Sleep Every Night Naturally Without Harmful Sedatives That Leave You Worthless The Next Day
Created specifically to be used every night, MindBoost™ Night is an amazing way to help release the stress you build up throughout the day so you can fall asleep faster, stay asleep longer, and wake refreshed.
MindBoost™ Night contains NO muscle relaxants, sedatives, or other harmful and addictive sleep medications..
How Does MindBoost
™

Night Work?
As Part Of Your Nightly Routine, MindBoost™ Night Helps You With:
Withania Somnifera, commonly known as Ashwagandha, a powerful adaptogen.
Ashwagandha is a herb used for thousands of years in Ayurvedic medicine. Ashwagandha has significant anti-stress effects to promote restful sleep.

One randomized, double-blind, placebo-controlled study of the safety and effectiveness of ashwagandha concluded "Ashwagandha root extract safely and effectively improves an individual's resistance towards stress and thereby improves self-assessed quality of life."

Another randomized control study found "Ashwagandha is an antioxidant and boosts your immune system. Ashwagandha also has antioxidant and immunostimulatory properties that make it easier to withstand the effects of biochemical stressors related to anxiety."
Rhodiola Rosea Has A Pronounced Effect On Mental Fatigue, Stress, And Anxiety
A study testing the fatigue of students caused by stress during final exams showed that over a 20 day period, the students participating in the study achieved 8.4% better grades than the students taking a placebo.
Why You Can't Fall Asleep
While you sleep, your brain repairs, rejuvenates and consolidates memories. Many toxins build up during the day and are then flushed out at night.
The problem is that poor diets, bad sleeping habits, lack of exercise, genetics or simply age can wreck havoc on your brain and make it more difficult for your brain to repair itself.
This can make it difficult to:
Retain new information like names, dates, and new subjects,
Recall memories quickly - You feel like you have more 'Senior Moments',
Wake up feeling rested - You go through the day in a fog,
Lose weight - An unhealthy brain creates additional stress on your body and creates lethargy,
Have any extra energy for yourself or your family,
Be happy. Exhaustion causes anxiety and can keep you up at night.
WebMD spells it out for you:
"Both sleep problems and anxiety disorders may result from problems with GABA, which helps neutralize the effects of glutamate, a brain chemical that causes excitement. When there is too little GABA, it causes those racing thoughts that characterize anxiety -- and keep you up at night"(1)
While you sleep, those neurons that work all day have a chance to shut down and repair themselves. If you don't sleep, your neurons may become so depleted in energy and so polluted with the trash produced by normal cellular activities that they begin to malfunction.(2)
(1) http://www.webmd.com/sleep-disorders/news/20030912/chemical-may-link-mood-sleep-problems.
(2) http://news.sciencemag.org/brain-behavior/2013/10/sleep-ultimate-brainwasher
MindBoost™ Night
A Clinically Advanced Formula With Proven Ingredients To Reduce Stress and Help You Sleep
The ingredients in MindBoost Night come from 100% all natural sources that have double blind placebo clinical trials behind them proving their effectiveness.
MindBoost™ Night works by reducing the stress chemicals in your body so you feel a greater sense of calm and peace. This calmer state allows your brain chemical GABA to work its magic and shut off your brain so you can get a good night's sleep.
Once asleep, MindBoost™ Night's other potent ingredients go to work repairing and cleaning out the toxins and normal cellular trash from the day's activities so you wake up feeling rejuvenated and refreshed.
Long term, the ingredients in MindBoost™ Night have been proven to support memory recall and memory speed.
Yes! I want a better night's sleep and rest...
Our Guarantee To You
We are so sure that you will experience supported memory with a sharper focus and more energy PLUS a rejuvenating night's sleep by using MindBoost™ Day and MindBoost™ Night, that we guarantee your satisfaction with a 120 DAY HASSLE-FREE Money Back Guarantee.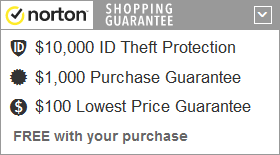 One more thing to take off of your mind - your order is 100% secure - we guarantee and it by providing you with Norton Shopping Guarantee on every order.
You Get:
$10,000 Identity theft coverage.
$1,000 purchase guarantee
Lowest Price Guarantee for 30 days
"As I get older, I definitely have a shorter attention span and tolerance for things. MindBoost not only gives more energy, but more patience and attention. The nighttime also makes me fall asleep as soon as my head hits the pillow. No nighttime tossing and turning!"
Carl, Palm Springs, CA.
"I have been sleeping like a champion. My barometer for a successful night's sleep is not waking up at 3AM. This hasn't happened on your watch. THANK YOU! I'm still waiting for the bags to disappear under my eyes-you'll be the first to know."
Mary, Denver, CO
"I see so many parents with that glazed, exhausted look in their eyes sitting on the sidelines at the park. I'm out there with my kids, playing with my kids on the jungle gym."
Russell, Denver, CO
"Results are amazing. I was sceptical at first, but it has really made me sharper and more focused. You should really try it."
Peter, Austin, TX
"I'm not one to resort to a pill for answers. They do more harm then good. I took a chance with "MindBoost" for its naturalness and I have had not one side effect. I have no negatives whatsoever; it has all been very positive. I can not thank you enough for the improvements I am experiencing. I am taking them for life. I do feel you have given me a new lease on life. One to be lived to its fullest."
Amelia V.
"I've been taking the night and day for almost two weeks now. I am sleeping a lot better."
Caleb H.
"Sleeping deeper and longer-thank goodness!I bought my business over 3 years ago and noticed a decrease in my quality of sleep. I had a hard time shutting off my thoughts and relaxing each night. Once I fell asleep I was waking up every night and struggling to fall back asleep. After purchasing Nighttime MindBoost I noticed a shift in these patterns. The best part is that I feel alert the next day. I will continue using the product.Thank you for your product, it's working for me."
Kelly
"I wish to thank Simple Smart Science for an expedient resolve to a concern I had about my billing! Not only did I get a fast and so very kind email about the situation, but I also received a personal phone call from Russell to alleviate any questions or concerns I might have had about the billing process ! Talk about going the extra mile-- you guys blew me away !! Thanks for being a caring, reputable company! It will be my pleasure to do business with you in the future !!"
Thanks so much, Brenda
"Lets face it who cant use some help creating a calm in their emotional state of well being. I know I can, with the day to day stresses of being a Mom, work and kids. Sometimes we forget to take care of ourselves. Or we wait until we are sick to realize it. My evaluation after taking it for several days is an over all feeling of good,some what of a happy pep back in my step. It comes in two bottles , one for day use and one to take at night."
Tia, 01/16/2015
Yes! I want a better night's sleep and rest...
*These statements have not been evaluated by the Food and Drug Administration. These products are not intended to diagnose, treat, cure, or prevent any disease.
The information provided on this site is for informational purposes only and is not intended as a substitute for advice from your physician or other health care professional or any information contained on or in any product label or packaging. You should not use the information on this site for diagnosis or treatment of any health problem or for prescription of any medication or other treatment. Always consult with a healthcare professional before starting any diet, exercise or supplementation program, before taking any medication, or if you have or suspect you might have a health problem. You should not stop taking any medication without first consulting your physician. Results featured on this web site are atypical. As individuals differ, so will results. Simple Smart Science distributes a product line made with natural ingredients. Always check with your doctor for risks associated with dietary supplements and your specific health conditions and/or allergies.
Representations regarding the efficacy and safety of MindBoost Night have not been evaluated by the Food and Drug Administration. The FDA only evaluates foods and drugs, not supplements like these products. These products are not intended to diagnose, prevent, treat, or cure any disease.
Reach Us
Company Address **Not For Returns**
1624 Market St Ste 226 #36378
Denver, Colorado 80202-2523
Website: www.simplesmartscience.com
Toll-Free: 888-503-2911
Servicio Al Cliente En Español: (720) 580-4667
These statements have not been evaluated by the Food and Drug Administration. This product is not intended to diagnose, treat, cure, or prevent any disease.